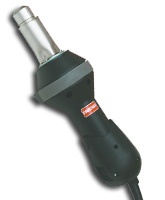 This Quick-SE hot air tool features a tapered handle for ease of handling and use. It is ergonomically designed to make doing the job easier.
Perfect for hot air applications and converts to a hand held plastic welder with the addition of accessories. A broad range of accessories is available to make this tool indispensable for a large number of industries and production people.
These are a few of its diverse applications: Roof Seam Welding, Flooring installations, Repairing and making truck tarpaulins and awnings, Overlap welding of vinyls and coated fabrics, Tank construction, Heating thermoplastics for forming and bending, Drying, Installing pool liners, roofing and flooring, Automotive manufacturing processes, Shrinking tubing, molded parts, sleeves, etc. Defrosting and warming, Activating adhesives.
Features:
› Well balanced motor to prevent vibration
› Broad line of easily installed nozzles that are compatible with similar tools
› Large air intake to keep tool cool
› Replace brushes from outside the tool— no need to disassemble
› Easily replaced power cord should it become damaged
› Generates its own air with built-in blower and motor
› Electronic variable temperature control up to 1290°F (700°C)
› Overall light weight— 2 lbs, 10 oz
› Small handle for ease of use— ergonomically designed to make the job easier
› 12-month warranty on parts and workmanship (excluding the element)
Specifications: Download our Specifications Sheet Here.
Voltage
120 V, 50/60 Hz AC
230 V, 50/60 Hz, available upon request
Power Used


1300 W @120VAC
1600 W @120VAC
1500 W @ 230VAC

Pressure
28 mbar
Temperature
68 to 1290°F (20 to 700°C); infinitely variable
Weight
2.8 lbs.
Cable
9.67 feet (9'8")
Dimensions
12.25 inches long
hand grip 2 inches to 2.25 inches at base
Marked
Double Insulated