Quick-L Non Electronic Welder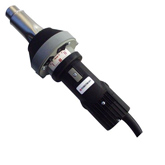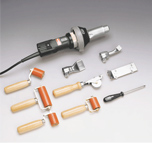 These low-cost tools are specially designed for tarpaulin, tent and awning fabricators who weld one type of material in one overlap width. This tool features your choice of one or two permanent heat settings and one cool setting for cooling the unit after use. It is easy to use with its ergonomic design and constant heat for the job at hand. When necessary its brushes are easily replaced without disassembling the tool.
Features:
› Model F0153 Robust-L Hot Air Tool,1300 W (1 Heat Setting)
› Model F0253 Robust-L Hot Air Tool, 1600 W (1 Heat Setting)
› Model F0298 Quick-L Hot Air Tool, 1600 W (2 Heat Settings)
› Model F2008 Heating Element (1300 Watt)
› Model F2011 Heating Element (1600 Watt)
› 12-month warranty on parts and workmanship (excluding the element)
Specifications: Download our Specifications Sheet Here.
| | |
| --- | --- |
| Voltage | 120 V, 50/60 Hz, 1000 W or 1600 W |
| Temperature | Selectable in one or two permanent heat settings and one cool setting |
| Weight | 2 lbs 10 oz. |
| Marked | |