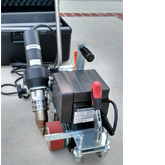 The Forsthoff-P2 has been put to effective use in the tent, tarpaulin, advertising banner and industrial fabrics industries. Forsthoff has produced overlap welders for 25 years and that experience has lead to the advanced Forsthoff-P2.
Our Roofing Welder includes 20 pound weights, redesigned nozzle and wheeled carrying case. The heavy duty deluxe foam padded case features a steel pullout handle and durable recessed wheels to protect and transport the machine.
Available in both 230V and 120V. The Forsthoff-P2 offers innovative features such as: Narrow and maneuverable for crease-free welding, Telescopic guide handle that can be conveniently adjusted to the user's body height, A new generation of nozzles for faster welding at up to 11m/min for 20mm overlap welds, Modern generation of gear motors providing a speedy and powerful drive for the welder.
Models/Accessories:
Model F1108P2C
P2 Automatic Roofing Welder w/Case & Weights - 2200W, 120V, 45-mm w/case
Model F1107P2C
P2 Automatic Roofing Welder w/Case & Weights - 4000W, 230V, 45-mm w/case
Model F1090P2
P2 Automatic Welder - 50mm Tape Welding, 4000W, 230V
F303118
Case with wheels for P2 welder
F1113P2
Hem Welding Kit for 20mm and 30mm hems
F1109P2

Hem Welding kit for 45mm hems.

See more accessories here.

Specifications:
Voltage:
230V, 3300 Watts, 20mm & 30mm
230V, 4000 Watts, 45mm & 50mm
120V, 2200 Watts, 45mm
Temperature:
68 - 1290°F (20 - 700°C) infinitely variable
Dimensions:
21 x 11 x 13¾ inches
Weight:
38.5 lbs with 23' (7m) connection cable
Marks: