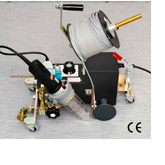 The automatic welding machine Forsthoff-F can be used to weld PVC floor coverings and to fusion-weld and seal linoleum coverings. The heat output of Model F1200 is 4000 W 230 V AC is electronically adjustable from 20 to 700°C. Model F1201 is 2200 W 120 V. In addition, the device is equipped with an infinitely variable speed adjustment from 0 to 19 m/minute and can thus be adapted to the individual types of materials. A high-temperature resistant coating of the pressure roller and wire guide guarantees a neat unwinding of the welding wire.
The universal unwinding device matches all commonly used wire coils.The device is completely equipped ready for welding and furthermore offers an automatic wall switch-off. The machine starts automatically after the weld head has been swiveled in. The machine casing's three-point support ensures that the machine runs steadily.

See our list of accessories here.
Features:
› Suitable for welding both PVC floor covering as well as fusion welding and sealing of linoleum.
› Infinite speed variation from: 0 to 9 meter/minute. PVC flooring-9 to 12 meters/min. Linoleum-5 to 7 meters/min.
› Precise uncoiling of the welding rod is ensured by a high temperature resistance coating on the pressure roller and rod guide. The unwinder fits all standard rod spools.
› Fully equipped for welding.
› Features a cut-out facility.
› Starts automatically when the welding head is moved into position.
› Three-point contact with the surface ensures pecise movement.

Models:
| | |
| --- | --- |
| F1201 | 120V Auto Floor Welder |
| F1200 | 230V Auto Floor Welder |
Specifications:
Voltage:
F1201 - 120 V, 50/60 Hz
2200 Watts

F1200 - 230 V, 50/60 Hz
4000 W
Temperature:
68 - 1290°F (20 - 700°C) electronically variable
Marks: