Forsthoff-D Overlap Welder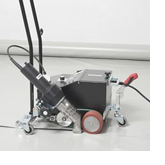 The Forsthoff-D is a versatile and efficient automatic welding machine with state-of-the-art technology for use on heavy canvas. It produces overlap seams with a selectable width of 40mm or 45mm. It's Heating power of 4000 W, 230 V can be adjusted continuously from 20 – 700 °C and it can therefore be adapted individually to the different materials. The strong hot air fan of the Forsthoff Tube produces a large air power of 600 l/min and therefore supports the state-of-the-art gear motor in combination with the proven nozzle of the Forsthoff-D automatic welding machine. Performance of up to 16 m/min can be achieved thanks to the continuous speed. In combination with the hold-down device, this results in crease-free welding. The device starts automatically after the welding head pivots.
In addition, the three-point placement provides a safe contact pressure for the canvas. It is supported by the weight of the Forsthoff-D automatic welding machine.
See our list of accessories here.
Model:
| | |
| --- | --- |
| F1088D | Automatic Overlap Welder |
Specifications:
Voltage:
230V, 50/60 Hz
4000 Watts, 40mm & 45mm
Temperature:
68 - 1290°F (20 - 700°C) infinitely variable
Dimensions:
21 L x 13 H x 15 W inches (without guide handle)
Weight:
65 lbs with 7m connection cable, incl. weight and handle grip